Your house should always be equipped with smoke detectors, but it's especially important that these devices are installed as we approach the holidays. Fun festivities often work in conjunction with electricity use. From decor to cooking, it seems the most magical holiday festivities would be rendered useless without power. 
Here's why you need to install smoke detectors for the holidays. 
Holiday decorations, candles, and food put us at risk 
Everyone loves holiday decorations—and for good reason! Nothing screams festivities like Christmas trees, glitter, and flannel. Unfortunately, these materials can be extremely flammable, presenting increased danger to you and your family. Installing smoke detectors is your first line of defense against house fires caused by holiday decorations. But there are other key defense mechanisms to implement for added precaution. 
It's very important to keep decorations a safe distance away from sources of heat. For example, you would never want a flannel ornament resting upon one of your tree lights. Every five decoration fires are caused by decorations being placed too close to a heat source, according to the National Fire Protection Act (NFPA). 
It's also vital that your tree is stationed at least three feet away from a heat source. Common holiday heat sources include candles, heating vents, fireplaces, radiators, and lights. You can also make use of your tree light's timer setting or set an alarm to remind you to turn them off before going to bed. And never place your tree in front of an exit for emergency evacuation purposes! 
As for candles, the NFPA states that candle fires peak in December and January. Always keep lit candles away from flammable materials. You never want to leave an open flame in an unattended room, and similar to your tree lights, you will want to put out the flame before going to bed. 
We don't have to tell you that cooking is a large part of the holidays. According to the NFPA, the three days of the year with the leading cooking fires are Christmas Day, Christmas Eve, and Thanksgiving. Practicing food safety is an essential part of
preventing house fires during the holidays. Ensure that someone is always watching the stove when cooking with an open flame or using the oven.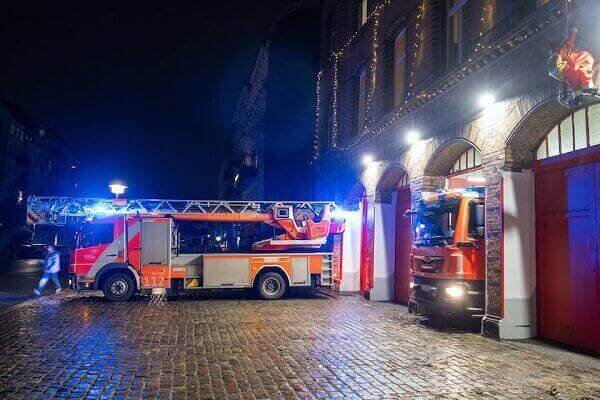 Be mindful of the health of your smoke detector 
Practicing these precautions and tips are extremely useful, but it would be naive to say that accidents don't occur despite our best efforts. Equipping your house with a smoke detector will always be the most effective way to alert your family of a house 
fire. It's vital that you actively maintain your smoke detectors to ensure they're functioning optimally. Test your alarms monthly and replace the batteries every six months. Most smoke detectors should be replaced every 10 years, depending on the model. Be cognisant of when your detector was installed. 
The holidays should be filled with love, gratitude, and tranquility. And ensuring your smoke detectors are installed and functioning properly will only aid in providing you the peace of mind you deserve. 
If you are unsure of how or where to install your home's new smoke detectors, reach out to AJ's Electrical. Our team of experts put safety, quality work, and customer service above all else.