Introduction
Sometimes it is very important to choose the correct tool or equipment to get your work done properly.If you want to start airbrushing right now then you have to follow certain instructions and guidelines which will help you to perform better in your initial work at a beginner level so that you can bring a satisfying outcome.For smooth coating and Providing blended shadows, you need to level up your work by practising with certain things. In this article, we will get to know everything about the starting guidelines of using an airbrushProperly in a technical way so that you can deal with all the hassles and struggles every beginner face at their starting level.
Complete Guide on How to Start with Airbrushing
There is regular questioning among the people over the internet concerning theUseful tips and tricksto speed up Airbrush painting. Hence this article is solely dedicated to deliveringUseful information to knowWhat kind of useful tools and techniques you can useTo encounter your problem of starting airbrushing in a good way.
1.Choose the right Airbrush
This is the most important tool which you need on the very first stage. The utility received from a different kind of airbrush can be different from person to person.
Hence here we have some of the features which you must consider before buying an airbrush. The trigger mechanism should be there in your airbrush to Control air and paint independently.
The middle size of an Airbrush should be between 0.2 MM to 0.5 mm to paint large instruments as well as to draw tiny details. In this way, you can use an airbrush in a broad range of application. There should be a stop mechanism in your airbrush to save accidental flood on the object.
2.Work with suitable Compressor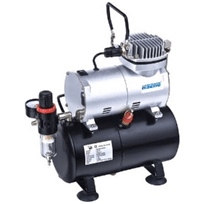 The compressor helps spray colours on an object with more pressure and force. A pressure meter must be included in the compressor so that you can manually set the required pressure. When the compressor is working in high-pressure, can create water droplets inside the chamber. Hence you Should buy a compressor which is capable of separating water from the paint.
If you want to make your work more smooth and sound, then you have to choose a compressor which is attached with a separate tank in it because it will store pressurised air in advance for you.Most of the air compressor and developed and designed as per the latest technologies which involve pressure regulation, a silent mechanism at a very affordable price range. If you want to change their pressure many times during your work, then you should buy a compressor which hasa pressure regulatory switch in it.
Apart from this, you can also opt for that compressor which has a silent mechanism in it. With help of this kind of compressor, you can complete your work silently without disturbing anybody in the house.
3.Use best Paint and Primers
If you want a proper adhesive property on your object, then you have to apply an undercoat or preparatory coating of primer on the object so that the paint will last longer. The acrylic colours are majorly used in airbrushing Because of their adequate property of mixing with water.
These are commonly used colours which can be found in a variety of price range and brands in the market. Variety of colours With undiluted composition can be found easily in the market to use in airbrushing. This will completely improve your game of airbrushing because this kind of paint and primers are designed to work in any kind of weather conditions.
4.Important Airbrushing techniques.
There are so many different ways in which you can start yourAirbrushing two draw different type of patterns and shades. If you are not good with Curvy lines and drawing critical patterns On the object, then you can start withdrawing or airbrushingstraight even lines. Make sure that your hand should be steady and the paint should not be applied in excess amount. To draw the thin lines, keep an eye on the trigger so that you can apply or allow an adequate amount of pain and pressure on the object and it would also save you from spilling paint flood on the object.
Once you get enough confidence in drawing straight lines, then you can try to draw different shades and shadows. If your object hasan even surface, then you can try vertical and horizontal curve lines to draw unique patterns. You can also apply light and dark shades to it.You can also design markings and stencils with the help of a printer in such a way that it will be useful for you to draw artistic designs and patterns on the plane surface of the object. In this way, you will be able to start your airbrushing in a great way.
5.Mandatory cleaning process.
With the minimum amount of care and cleaning process, you can maintain the quality of your tools For life long. It also depends on the quality of the equipment regarding what level of cleaning process needs to stay durable. If the comments into the unknown cleaned properly from time to time, then there will be blockages and uneven Smooth working observed. Just make sure after completing each airbrushing work, you must clean your airbrush tip with the cleaning fluid. Help you to maintain the quality of the Nozzle needle after each session. You can also pour back the excess amount of paint from the paint cup by inverting it into any vessel or pot. You can repeat this process until the paint cup appears to be clean.
It is very important to clean it with proper technique so that the tools will work for longer.If you don't know the exact technique to clean these tools, then you can also look for the instruction guide that came with the airbrush Box. In this instruction and guide, you will understand the cleaning process of nozzle, needle, head-cap etc. Do this process regularly to save the deep cleaning cost.
FAQs
1.Can I paint different colours withthe same airbrush?
Yes, you can do it after cleaning the previous paint residue in the airbrush. Otherwise, all colours will mix.
2.What is the required pressure for an airbrush?
The most appropriate pressure is 1.5 bars.
3.Is it necessary to clean the airbrush after every use?
Yes, it is very important to clean it after every session 2 make it durable and work for longer.
Conclusion
Follow this important information to begin your airbrushing satisfactorily. All the tips and tricks mentioned in the article are very useful and necessary to keep in mind while using An airbrush. You can improve your work by practising a different kind of objects by drawing different types of shades and shadows.